Truck Equipment Lansing, MI
Protection for Your Tools and Parts
When your on the job, you want to know that parts and tools are organized were you can find them, protected form damage and secure from theft.
US Workvan understands how important this is to our customers and is one of the reasons we are a leading provider of truck equipment in Lansing, MI and surrounding communities. You can rely on us to help make your job a bit easier.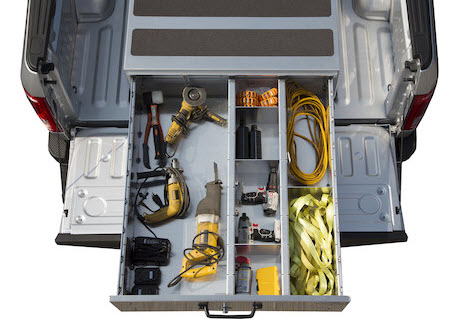 We're here to help you find the storage solutions that work best for you and the job to be done. From truck caps and toolboxes to cargo racks and liftgates, we have the products to turn your truck into a mobile workstation. Your options are limited only by your imagination.
About Our "Look Good" Truck Accessories
We know pickup trucks are designed for doing the dirty work… but some of us just want to "look good" in our truck. If you are looking to add protection and style to your truck bed… Then let US Workvan cover those needs with a quality selection of tonneau covers, fender flares, running boards and more!
From Lifting to Climbing We Have It All
From a liftgate to get those heavy loads into the truck bed… to a truck rack for carrying ladders, scaffold and pipe… US Workvan can help you expand the versatility of your work truck. Links to our website truck equipment products are listed below.
Helping You Create the Right Truck for the Job
Our team is here to help you design a work truck that fits your specific needs and professionally install it for years of dependable service.
Contact us : Quality products, outstanding service and competitive prices. That's what you get with US Workvan… we guarantee it!
What a GREAT place to do business! Thank you Nick.
Primary Communities Served
Bath
Carson City
Charlotte
DeWitt
Dimondale
East Lansing
Eaton Rapids
Fowlerville
Grand Ledge
Haslett
Holt
Ionia
Laingsburg
Lansing
Mason
Okemos
Potterville
Saint Johns
Webberville
Williamston