Adrian Steel Products - Lansing, MI


Since 1953 the Adrian Steel Company, located in Adrian, MI, has always strived to bring it's customers the best in commercial van and truck equipment products.
Check-out some of the latest products being added to their product line.
The new Adrian Steel ProLift™ series of ladder rack uses unique mechanical advantages, and high-performing spring assist struts to raise and lower ladders with an almost effortless pull. The Standard-Drop ProLift™ for low roof vans lowers the ladder to a single set height. The Maxi-Drop ProLift™ for low, mid and high roof vans has a secondary drop that lowers the rear of the ladder even further to a safer more ergonomic height.
This rack offers secure storage for extension ladders up to 30 ft., A-Frame ladders and 8 ft. step ladders. Spring assist struts allow ProLift™ to easily raise ladders up to 100 lbs. per lift with little effort. All components are aluminum with a plastisol or powder-coat finish in order to prevent rust. Using the OEM mounting location on the roof requires no drilling to install.
Avoid climbing on bumpers or tires… get the Adrian Steel ProLift™ ladder rack to do the work for you.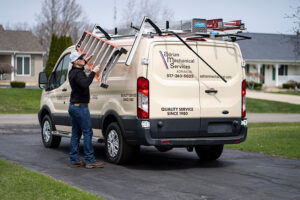 You asked and we listened. A new 16″ deep line of Shelving with 2″ lips for increased storage of wire and cable boxes, storage cases, totes, larger tools, consumables and more.
Shelf unit sizes are available in 5 widths (32″, 40″, 44″, 50″, 60″) and 3 heights (46″, 49″, 63.5″), shelves can be configured up or down in 1″ increments for a perfect fit.
New 16″ deep shelving can help eliminate wasted space around the van wheel well with the Optional 8″ Shelf to keep loose pipes and fittings from rolling around the van floor.
And the new Optional Undershelf 10′ Conduit Tray can also be added below shelving to securely hold conduit in a floor tray for easy access from the back of the van.
Finally complete your shelf with Adrian Steel Accessories like drawers, bins or dividers for all your van storage needs.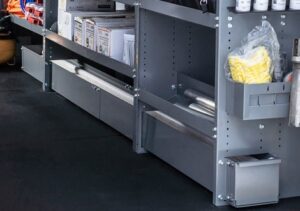 Primary Communities Served
Bath
Carson City
Charlotte
DeWitt
Dimondale
East Lansing
Eaton Rapids
Fowlerville
Grand Ledge
Haslett
Holt
Ionia
Laingsburg
Lansing
Mason
Okemos
Potterville
Saint Johns
Webberville
Williamston